Jaspreet Kaur Walia:
Audi is class apart and has managed to win many hearts all around the globe with its sheer grandeur and style. Adding to the exquisite fleet of cars and SUVs is the German Automobile manufacturer with the Audi RS Q3 concept that will be unveiled at the Beijing Auto Show later this month. The concept will be the third five cylinder Q3 to be presented by the manufacturers. No doubt it is a concept as of now, but do except the sumptuous coupe to hit the road within a year.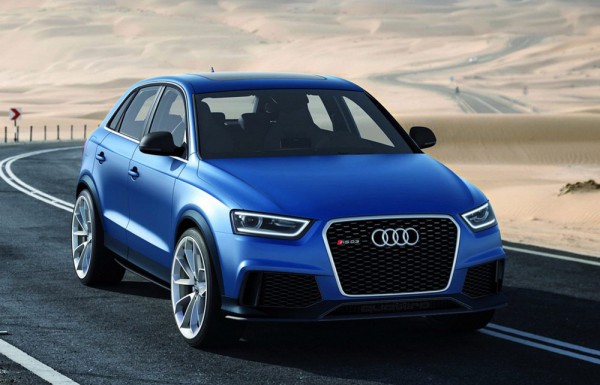 RS Q3 Concept
The concept SUV will come fitted with the same five cylinder, 2.5 liter turbocharged TFSI engine along with full-time Quattro all-wheel-drive and a seven-speed S tronic dual-clutch transmission. Audi RS Q3 concept can touch a top speed of 165 mph and can jump from zero to 100 km/ hr or 62 mph in as less as 5.2 seconds. This is possible as the power packed engine can easily come up with 360 horsepower, which in turn gives it a speedy status. The ride comes draped in a sporty feel with all new front and rear bumpers that have clearly fetched some inspiration from other RS models. The styling changes are not very drastic but definitely manage to leave an impression. Wide air intakes are present at the front valance and giving it a hot look is the front splitter. The body of the tasteful concept sits an inch closer to the ground at 25 mm, whereas the wheels are fatter and bigger.
Picture Gallery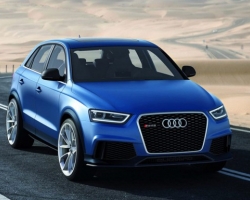 Audi RS Q3 Concept
The inside is as eye appealing as the outside skin and vows to be comfortable. The styling touches are worth noticing, featuring carbon fiber panels that comes instilled with a luminescent weave in blue. The tachometer has been given Chinese characters giving it exclusiveness for its China debut. The inside features a lot of black trims, hints of which can be seen on the floor carpet, seats, floor mats, roof liner and even on the instrument panel upholstered with leather. The seats come smothered with Nappa leather, which is definitely a clear image of luxury and elegance. The seat covers are further complemented beautifully by the presence of dark blue Alcantara. The color blue further extends to the steering wheel rim, trim panels crafted out of carbon fiber and shifter surround.
The compact SUV has been given sharp visual details that are bound fetch a lot of attention as it rolls on the road. The use of latest technology and safety features give it added luxuriousness. The inside is spacious and offers a generous legroom and headroom, which will make long rides quite comfortable. Audi RS Q3 concept will suit the taste and requirements of many people and will see many queue up to own this oh-so-wonderful ride.
Via: Diseno-Art
Similar Posts: