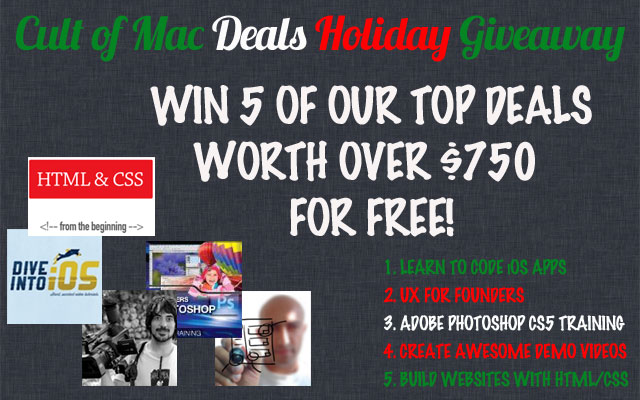 Since launching Cult of Mac Deals this past fall, we've received a tremendous amount of support from our fans and so this holiday season we wanted to give something back. We've compiled a fantastic giveaway including 5 of our top deals valued at over $750!
One lucky winner will receive one of each of the following online video courses:
1. Dive into iOS – Learn how to code iPhone/iPad Apps
2. UX for Founders – Make Steve proud with design that doesn't suck
3. Adobe Photoshop CS5 Training – Learn the fundamentals of Photshop
4. Awesome Demo Videos - Create compelling demo videos for your business
5. Learn HTML/CSS – Start building your dream site today
Here's how to enter the giveaway:

Step 1: Subscribe to our newsletter (Make sure to click on the link in the verification email sent to this email address so we can notify you. This is required to enter and win.)
Step 2: Tweet on Twitter or Post/Comment on our Facebook Fan Page the following: "Cult of Mac Deals is giving away a Holiday gift bundle worth over $750 for free! Check it out: http://www.cultofmac.com/?p=137034 #CultofMacDeals"
Super easy, and you get to choose which social network you want to enter from.
The contest ends on January 7th at 5PM PST, after which we will select be 1 lucky winner.
Happy Holidays! 
Similar Posts:



Similar Posts: