Jaspreet Kaur Walia:
Mutewatch
Mutewatch with a translucent capacitive touchscreen.
A good-looking watch always manages to fetch attention and works like a delicate piece of precious jewelry. It decorates your wrist and is a great accessory to possess. But, most of the wristwatches don't solve the purpose of sending reminders in the form of alarms. Even if they have one, it pinches the ears with its sound and can cause disturbance when sitting at a quiet place. Keeping this sound-related issue in mind, the Mutewatch has been designed.
Picture Gallery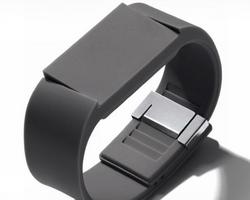 Mutewatch with a translucent capacitive touchscreen
The overall design is quite plain and intuitive. As the name suggests, the watch has a mute alarm system that will be as effective as a blaring option, and will let you manage time in a better manner. The display makes good use of LED that makes it glow flawlessly. It robotically adjusts according to the light intensity of its surroundings to offer optimum glow. The LED display comes wrapped with an easy to use and capacitive touchscreen. To light up the touchscreen, all you have to do is tap the flat surface once. Once the screen is illuminated, swipe through all the functions (time, clock or alarm) and make necessary changes. Setting time is effortless and can be done by tapping on the digits. To select a higher number tap on the top of the digit and if you want to settle for a lower digit, simply tap at the bottom. But, what if you want to delete the alarm? Well, you can simply pinch the touchscreen and see it disappear in no time.
The Mutewatch comes embedded with a motion-sensor that records each and every movement of the user. The strength of vibrations is automatically adjusted according to the movements recorded. For example, the intensity will elevate when you are sleeping and need to be shaken up a little more to come out of your well crafted reveries. The length of vibrations can be customized as per your convenience, which will act as a perfect reminder and make sure that you don't waste a single moment. The watch is available in three colors: red, grey and white (sold out), and each weighs 40 grams. It was designed in Sweden and comes with a price tag of $259.
Mutewatch can be pumped with life using USB port that takes two hours to refill its battery. If the device hasn't been used for a week at a stretch or the battery is low, it will automatically enter the hibernation mode. The watch can run for one or two weeks, depending on the usage, when the battery is fully charged. The software can be easily upgraded with the help of a USB. Minimalism rules the overall design of Mutewatch and its vibrating alarm system is quite a steal.
Via: Technabob
Similar Posts: