Having been only two weeks since we posted the best alternatives to the iPod, Archos, one of the frontrunners, had to go and release their new Archos 5 Internet Tablet. It is a pretty amazing device that promises incredible possibilities.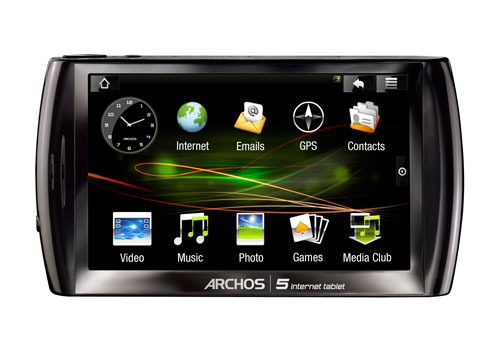 So what makes this new device so special? Several reasons, but the first standout is Android. With the many pre-installed application (ranging from documents to twitter,) there is also the AppsLib. The AppsLib is a library of free and paid downloadable apps—and Archos is promising 300–450 apps that are in the pipe-line ready to go. Another amazing feature is an HDMI port. With this addition, you could be watching a movie as you commuting home and once you get there, simply plug the device into your TV and finish watching it. But, paired with the next features makes that port even more amazing. The Archos 5 supports an external keyboard connected either by Bluetooth 2.0 or the USB 2.0 host port. So now, why even take a laptop when you travel? Plug this into your TV and type away on an external keyboard to keep in touch. While it can come with either a 160 or 500 GB HDD, you can also take advantage of that port by plugging in an external hard drive and pretty much have infinite storage. Lastly, one of the best features of all, it features a kickstand on the back, making it so easy to watch movies or type using an external keyboard.
This is just the tip of what the Archos 5 Internet Tablet can accomplish. It has all these great features—Hi-Def video, TV output, Music, Wi-Fi, GPS, Bluetooth and USB connectivity—all in a tiny device, barely bigger than a 3 x 5 notecard. In a couple months time, once more and more apps are released, I expect some amazing things. It is available in four models, a flash-based 16 or 32 GB version for $299.99 or $379.99, respectively, or the aforementioned HDD-based 160 and 500 GB versions priced at $329.99 and $429.99, respectively.
So, what do you think of the new Archos 5 Internet Tablet?

Similar Posts: